Why Choose Luxury Vinyl Flooring?
Luxury vinyl flooring is a great flooring option for your home or commercial space. Read on to decide if luxury vinyl might be the right choice for you. 
Perhaps the most obvious of luxury vinyl flooring is its ability to effectively emulate other more expensive and sought-after flooring options like hardwood or natural stone. Luxury vinyl can effectively mirror these materials while offering the added benefits of engineered flooring, like resistance to spills, stains, and moisture. Luxury vinyl flooring also comes at a much lower price than hardwood or stone and is an excellent option for homeowners looking for a high-end appearance while on a budget.
In addition to luxury vinyl's appearance, it also provides a lack of maintenance that should make daily care easy for most homeowners. Simply by sweeping your luxury vinyl floors every few days and cleaning up accidents as they occur, your floors will continue to look great for years to come. 
At ICC Floors Plus, we feature luxury vinyl from top brands like Shaw, COREtec, Mannington, Paramount, MSI, Johnson, Tarkett, and many more!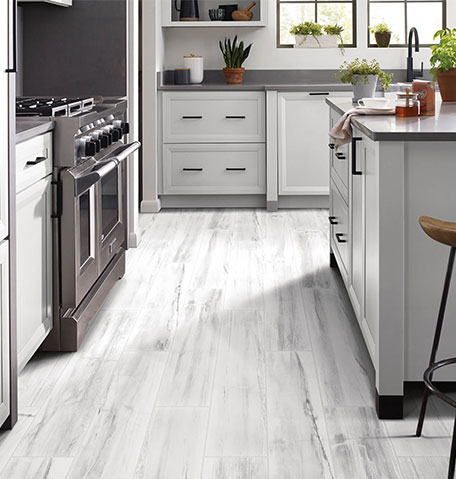 The Benefits Of Luxury Vinyl
Luxury vinyl can mirror the look of hardwood or natural stone but at a much lower cost than the actual products. 
Luxury vinyl is tough on scratches, spills, and stains. 
Luxury vinyl requires only basic broom-sweeping to look great and function well. 
Luxury vinyl is versatile and can work well in various rooms. 
Luxury vinyl comes in a wide range of overall looks. 
Luxury vinyl can handle moisture more effectively than other hard surface flooring options. 
Luxury vinyl is affordable. 
Get Inspired
Browse our luxury vinyl inspiration gallery to stay current on the top trends in luxury vinyl flooring.